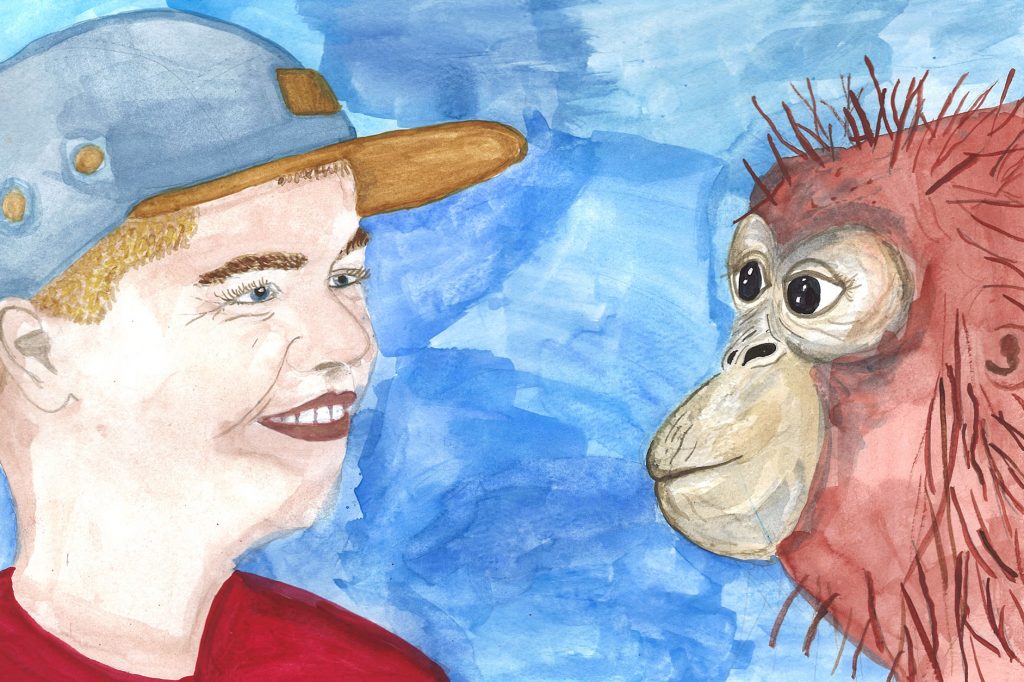 edutales, an orangutan and saving the rainforest
Our media product "Henry/ Matthew Eagleman and the Rainforest Mission" deals, among other things, with an orangutan who lives in the rainforest of Borneo and decides to save the rainforest. But behind the story of Henry, as the orangutan is called, there is much more than an appeal to save the rainforest…
An orangutan named Henry
The story about the male orangutan Henry was written by Benni Over, a young man who suffers from a gradual muscular atrophy called Duchenne muscular dystrophy and is confined to a wheelchair. However, this does not stop him from investing all his time and energy in saving the rainforest day after day. On the contrary, this goal motivates him to continue with all means and possibilities. His love for the rainforest and the apes began with a visit to the zoo and subsequent research. Benni had to realise that the living conditions of the orangutans are worsening with each passing day as more and more rainforest has to give way to the plantation of palm oil plantations.
He himself is godfather to several orangutans, including the young male named Henry, who was raised without a mother in a breeding station on Borneo. And because the fate of this ape touched him so much, Benni decided to use Henry as the basis for a film and a children's book to make primary school-aged children aware of what is happening in the rainforest and to sensitise them to sustainable action. With his touching and thought-provoking story, he has already reached many children all over Germany, conducted numerous workshops on the topic together with his father, Klaus Over, and also founded the reforestation project "Benni's Forest" and was awarded the Order of Merit of the State of Rhineland-Palatinate for his actions.
How Henry found a place in the media product
The media product about Henry and saving the rainforest is ultimately an interactive rendition of Benni's story. In this way, his story, as well as his drawings, should offer even more perspectives, as well as food for thought. The advantage of such interactive stories is the playful and active access to a certain topic – in this case the topics "environment" and "sustainability". In addition, they offer the possibility to take different perspectives and to directly experience and critically reflect on the effects of decisions made. In order to provide an additional perspective on Henry's experiences in saving the rainforest, a second storyline was developed from the perspective of the boss of a palm oil company, Matthew Eagleman, which gives a (child-friendly) insight into the economic background.
Would you like to accompany Henry or Matthew Eagleman on their rainforest mission?
No problem! Click here to go directly to the media product and the matching materials.